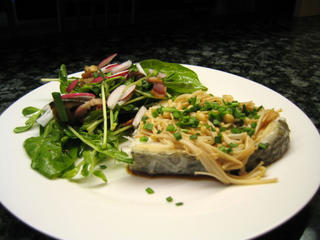 Teriyaki-Glazed Sea Bass
This dish was very pretty: lovely colours, nice fish, bright greens. But it is hard for me to issue a verdict on its good-ness because we over-cooked the fish which made it taste less than great. The enoki mushrooms, however, were quite tasty, which is key because that one ingredient is why we tried this recipe. We saw them at the market two weeks ago and added them to a new list of Ingredients With Which We Should Try To Cook. I would be tempted to try this recipe again to see if we could get the fish right and to be able to say "enoki" some more. e-NOH-kee. (Wasn't that a character from the 1980s Jennifer Connelly movie, Labyrinth?)
Pea Shoot and Spinach Salad with Bacon and Shiitakes
The salad, on the other hand, was scrumptious if only for the fact that it involved bacon. We halved the recipe, but added the full amount of bacon as indirectly instructed by bacontarian.com. Actually, the pea shoots added an interesting, but subtle, pea-flavour next to the spinach and the simple vinaigrette highlighted the flavours but was light enough not to instantly wilt all the leaves and drown the shiitakes. Next time, I would serve this as a starter rather than a side so as to appreciate the flavours unadulterated by a bossy entrée.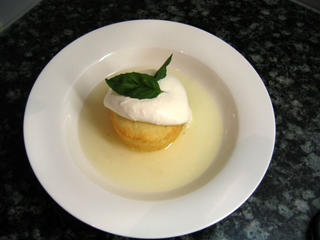 Lemon Cakes with Basil Lemon Syrup
This. Is. Brilliant.
This is the third time we've made this dessert in as many weeks and is part of the motivation for creating this whole, silly blog. Truth be told, this cake is the last one leftover from the wee wine-tasting party we had on Labour Day. We invited a couple of wine-loving friends over to open the "special bottles" that Marc has been saving since 1998. By the time dessert was ready, there were six of us sitting around enjoying the wine so we portioned out smaller sections of the cakes, each with a dollop of whipped cream and a sprig of fresh basil. The verdict was unanimous: fab u lous. "It tastes so fresh and clean and light. I would definitely choose this over any chocolate dessert on a menu." "My pastry chef could learn from this recipe." "I'm sad because I only have two bites left." It almost stole all the wine's thunder.
Of course, the wine: for this meal, it was Sagramoso Valpolicella Ripasso, 2002 and, because we are lushes, some Folonari Valpolicella Ripasso, 2003.
For the party, we had Marc's favourite white, Evolution, from Oregon and his "specials" from Chile: Casa Laspostolle, Cuvée Alexandre, Merlot, 1996 and 1997. It was interesting (and deliciously luxurious) to be able to compare the different years; the '96 was more oaky with a distinct taste of vanilla and the '97 had just the faintest touch of mint. I don't know if that is officially what those wines are supposed to taste like, but that's what I tasted and it's my party so I'll wax oenologic if I want to.
Janet