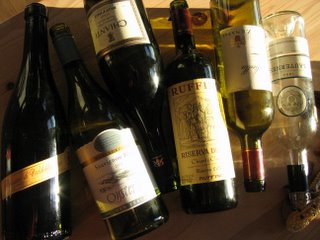 A few weeks ago, we hosted a small dinner party. Well really, it was a wine party with food but there's a fine line between the two. It's lovely getting together with this group as everyone is friendly and talkative and we all appreciate great food and good wine. Conversation always gets louder as the night grows longer but in my opinion, that is a sign of a successful evening.
Deirdre & Marshall

Andrew, Ingrid, Puppy, Marc & Janet

The meal had several courses: Pumpkin Soup with Five Spice Powder, then Roast Chicken Stuffed with Fennel and Garlic, Roasted Beets with Chianti Syrup and Rosemary Roasted Potatoes and, finally, a simple Apple Tarte Tatin with a dollop of mascarpone. I would go into more detail but we didn't take pictures and somehow, writing about food without the pictures just isn't as much fun. Suffice it to say that we all thought the meal was scrumptious, except for those among us who don't like beets (sissies) and those of us who are pregnant (poor, poor Deirdre! we'll have another wine party when you drop that sprog!).The wine takes center stage for this entry. In order of consumption, here is what we drank:
Prosecco – we usually have a couple of bottles of this on hand for the increasingly frequent occasions that warrant a sparkling white, like, someone announcing a bun in the oven, or Tuesday.

Oyster Bay, a Sauvignon Blanc from New Zealand – this is the second time we've enjoyed this crisp wine; it matched very well with the rich pumpkin soup.

Ruffino, Italian Chianti – always something we like, full and good at adapting to whatever is being served; it was a pleasant coincidence that our menu consisted primarily of Tuscan flavours.

Ruffino Reserva, Italian Chianti – kind of saucy to compare a Reserva to the first Chianti, just the slightest change in taste.

Zenato, Italian Valpolicella – one of our stand-by favourites; it would be on our 2003/2004 Cheap & Good list but it falls short of meeting one of those criteria…

Sauternes – we hadn't tried this before but because the recipe for the Apple Tart suggested a Sauternes, we decided to go for it. Marc didn't have anything really good to say about it at first but eventually warmed right up to it while sipping it after dessert; I guess this is sort of somewhere between a sherry and dessert wine..?

Port, Angove's Tawny, 1996– a decadent end to a decadent meal. Even though this port is from Australia (Marc is prejudiced against all Australian wines; surely there is something there that he would like), it is quite lovely and relatively inexpensive. Miraculously, Marc agrees and is now a champion for this port.
Good thing Marc has a fetish for glassware; we were able to use a new and appropriately-shaped glass for each wine. What a fabulously sybaritic way to spend an evening! We glided from wine to wine, commenting on the flavours, tasting the difference between regular and Reserve, gradually slipping into a suspended state of bacchanal bliss.
We made a pretty good dent in the wine supply (which we had just replenished that morning) and though everyone had generously brought a couple bottles of wine, we made quick work of those, too. If one glass of red wine a day is good for you, several bottles must be even better, right? Yes?