A couple of years ago, I visited the Tuscany of my dreams.
I have a theory; I believe that a destination –city, beach, country – is whatever one makes of it. For example, one will encounter the same number of people who, when visiting Venice, would call it smelly, over-crowded, touristy, expensive and confusing, as people who would remember it as enchanting, quaint, historic and delicious. What makes these two people see the exact same place and time so differently? I think it might be attitude. Where one person looks at the canals and sees the garbage in the water and a construction barge floating next to the ugly scaffolding spread over a bridge which is supporting the weight of a steady stream of sweaty tourists eating bad ice cream, another person might look and notice the surprisingly fluid motions of someone unloading heavy tiles from a precariously balanced barge, the bright flowers in a window box near the bridge, the sun shining brightly off the water, the tourists laughing and the church bells in the background. I know, because I've been both people. After the traveling I've done, I've learned to recognize my dispiritedness and then force myself to mentally stop, find something beautiful and focus on the romanticism that a place has to offer. It is with this conscious romanticism that I visited Tuscany.
Ever since Frances Mayes wrote Under The Tuscan Sun, I've been devouring and re-devouring her books. That she is an exceptional writer of prose is clear, but the way she chooses to describe things seems familiar to me; hey, I know that attitude– it's my romanticism! I suppose one could surmise that it is easy to find things that are beautiful in Italy, with all the art and architecture and food and people, but I think it's more than that. I think her descriptions, and later, my real-life experiences, were rooted in the idea of mandatory enjoyment.
At any rate, this "mandatory enjoyment" has made for some lovely memories of places I've been. Every time I eat white beans, I recall that the word "Tuscan" means bean-eater and then I remember a particularly pretty day I spent in Cortona, Tuscany. I visited Cortona because, of course, that is the town near which Frances Mayes lives and I couldn't resist trying to sleuth out some of the places she describes in the book. (Unfortunately, I didn't have enough time to try to find her house but that will be for another day. I continue to collect clues from her books.) It turned out that it required very little effort on my part to see the beauty in that town. It was hot when I was there; I walked up and down steep streets, into cool, shaded alleys and through parks on the edge of the hill town with breath-taking views of the surrounding countryside. This was the first place I had been where I heard cicadas chirping. The sun baked everything and somehow seemed to make the air thicker so that echoes in the town square didn't seem sharp but rather muted. I had lunch on a stone balcony at a trattoria overlooking the piazza; light pasta with tomato sauce, sausages and fresh raw vegetables and a jug of red wine. It was all so charming and so much like the Cortona that I had imagined that I stretched that lunch out for hours, lingering over my meal, watching the people move about below, ordering an espresso, breathing and listening and trying to embed a memory for each of my senses. When it was time to go (to drive off to Venice, in fact) I was strolling instead of walking. I could've very happily stayed there for weeks and not done much more than I had that afternoon. And then I telephoned Ingrid and woke her up to describe how unimaginably perfect Cortona is.
The point is, I'm so happy to have had the experience of that day and so pleased when something triggers my memory of it. Like the beans in this White Bean, Potato and Arugula Soup (a recipe from Kansas City, Missouri, no less).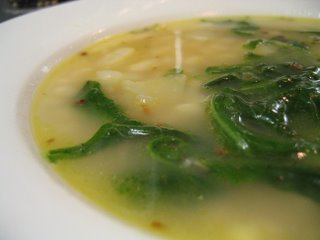 The soup was nothing to write home about but it was worth having made it for the delicious little glimpse into my past.