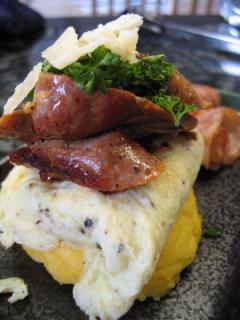 Janet left me to find something for us eat for breakfast because she was busy doing laundry. My first thoughts were eggs and toast, but there were only two eggs and the focaccia went moldy. I had to get creative with the odds and ends in the fridge. This turned out to be an inspiring challenge.
The chili sauce and cilantro in the fridge had some possibilities, but I wasn't sure how that would go with bacon or cheese. There were more ingredients for an Italian theme. My first thought was to do the dish with toast. Holly took me to the Wildwood for brunch one day where I was served something with polenta. I can't quite recall what it was. The polenta was a great alternative. The corn flavor complimented everything. I had criticised my plating recently, so I went vertical like we see on Made to Order.
The result was Tower of Breakfast with Bacon Roses. Starting from the bottom, the layers were:
Broiled Polenta with Parmesan and butter
Omelette with Pepper
Ribbons of Sun Dried Tomato
Spicy Italian Sausage
Parsley
Shaved Parmesan
I rolled up the bacon to finish off the plate. I had closed off the kitchen to make sure she say no hints of what I was making. Everything was tasty, even the sausage that had been in the freezer too long. Presentation really does make everything taste better. Jan was quite impressed. She polished off her plate well before I finished.