We ironically found ourselves in a wine store that sold only French wine within an hour of arriving in Berkeley, a stone's throw from Napa. Rather than splurging on local a bottle we had to celebrate our arrival with champagne, which neither of us has had much experience tasting. We usually enjoy the sweeter, and less expensive, Italian prosseco. I would say the champagne was refreshingly crisp, instead of dry. I was once again reminded that spending a few extra dollars can make a bottle of wine into an experience.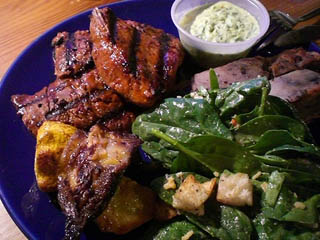 After driving for 24 hrs, we grabbed food at our nearest source, a gourmet takeout restaurant named Gregoire's. They managed to squeeze our order in between the 30 other boxed meals that the one cook was creating at a frenzied pace. I had a chipotle flank steak with creamy gremolata and roasted sunburst squash and zucchini. Janet, in a continuation of her endless streak of selection the best dish, ordered a Puffed Pastry with Potato and Eel. I couldn't imagine what how my experiences with barbeque eel sushi, one of my favorites, might be reflected in this french style dish until I tasted it. The textures of smooth oily eel, crispy pastry and starchy firm potato slices struck me immediately. There was sauce inside the pastry, possibly the same sauce used in eel sushi, which added a familiar flavour for me. This was her second choice, so I can only imagine how great her first choice would have been. For sides we ordered a potato gratin with olives, which was a little pasty and cold. Fresh from the oven, it may have been better, though more butter and cheese would also have helped. The spinach salad was fine, but nothing to blog about.
I've been searching for an excuse to go back to Gregoire's. Perhaps, "because it's Gregoire's" will suffice.