Monday, September 17th, 2007
We've been improving some of our favorite recipes.
Inspired by the breakfast burrito at Nellie's Restaurant in Calgary and the fennel sausage pizza from Gioia's Pizza in Berkeley, we made some revisions to our own breakfast burrito. We added olives, jalapeño, fennel sausage and toasted anise seeds, which we initially thought were the same as fennel seeds, but our taste tests have determined to be sweeter with more licorice flavor. Refried beans added smoothness, weight and held everything together. Flour tortilla's were substituted for corn tortillas, which worked well in the lighter version, but would have been too much with the beans and sausage. Fresh mozzarella, scrambled eggs, sour cream, cilantro, salsa, and avocado finish the ingredient list. We didn't finish the food in the picture, flagging halfway through our second burritos.
While breakfast burrito's are a great treat, we usually eat yogurt with fruit and/or granola. Inspired by her cherry pie, Janet grated a little nutmeg on top of maple yogurt and bing cherries–simple and tasty.
Ever since I tried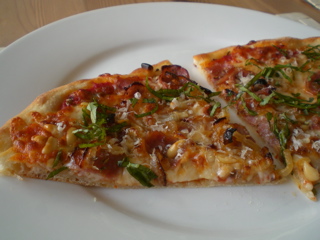 the butternut squash pizza with the thin crust, I've been thinking about making a classic thin crust pizza. We topped ours with fresh tomato sauce, caramelized onions, anise seeds, fennel sausage, fresh basil, fresh mozzarella, pine nutes and Parmesan cheese. It's definitely in the top three pizza's I've ever had, with Gioia's Pizza's and Alegretto in Chile being the other two.