Friday, October 23rd, 2009
It is high time I took picnicking to the next level.
I have read and re-read the chapter in Peter Mayle's Toujours Provence where he talks about the picnic his wife plans for his birthday, the picnic he is loathe to attend because of a fear of "a damp bottom and ant sandwiches".  Of course, the picnic reaches far beyond all his low expectations when he is presented with a table with actual linens and sliverware, set in a sunny, quiet meadow and several courses of a divine luncheon.  As beautiful as that all sounds, I'm not sure that I would necessarily categorize that as a picnic;  it's more like alfresco dining.   So what I want to target is something that, on the spectrum of Eating Outside, sits far, far from PB&J and rather close to alfresco dining, but without the caterers or linen.
An opportunity to experiment with picnicking arose with Mom & Dad's visit to SF, and the subsequent – practically mandatory – day trip to wine country.  There are several wineries in the region that have picnic areas for visitors, but one in particular, in Napa, is where we had been before and wanted to go again:  Reynold's Family Winery.   It's a small scale operation with a nice patio, some chairs and tables with umbrellas arranged under (what is almost always) the hot sun.  Even better, they have one of the few Chardonnays on the planet that I actually find pleasant to drink.   The wine is where I started the menu, the library is where I continued.
Truthfully, I didn't plan to actually go searching for a picnic cookbook when I was last at the library, but I happened to pick a most unlikely choice: Tassajara Cookbook, Lunches, Picnics & Appetizers, by Karla Oliveira.
"The Tassajara Zen Mountain Center, a legendary Buddhist monastery set deep in California's Ventana Wilderness, is famous for its healthy gourmet vegetarian cuisine.  Guests rave about one particular Tassajara tradition: the bag lunch."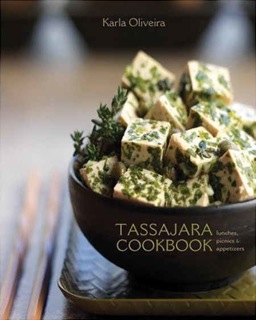 Ha!   It's vegetarian, and I still brought it home.  Brought it home and got completely wound up in what were starting to sound like really good spreads and chutneys, even without any meat:  Fennel Mustard Butter, Tarragon Onion Spread, Eggless Egg Salad, Mushroom Pâté…  I had to look up what "tempeh" was, and what "tamari" was (coarse tofu and a kind of soy sauce, respectively) and then designed a menu mindful of chardonnay:
Tempeh Garlic spread with cherry tomatoes

Artichoke, Walnut Tofu spread with Raincoast crisps

Un Mondo Cacciatore Hunter's Style dried salami & grainy mustard

Cabbage slaw with maple vinaigrette

Coco-Luxe chocolate truffles
Ultimately, though I forgot the forks and the sun refused to shine in Napa (inconceivable!), this picnic was a smash.   We uncorked a thoughtfully chilled 2007 Chardonnay, dressed the salad, sliced the salami, and enjoyed our picnic despite the chilly breeze.  In fact, I'm not sure it could've been nicer– the spreads were good protein but not so filling that we would regret them at dinner time, the slaw added a vinegary, crunchy element and the truffles at the end effectively sealed off any overindulgence in white wine.   Only the sun was lacking to make our view out over the vineyards perfect.