Friday, April 10th, 2009
A new milestone in the search for the perfect tonic!   Enter:  Q Tonic.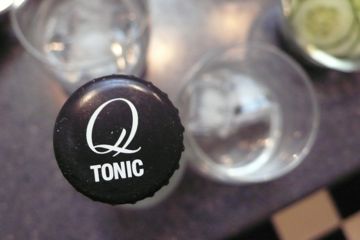 "60% fewer calories than other tonic waters, Lightly sweetened with organic agave, Handpicked Peruvian quinine."
For only $8.95 USD for four bottles, we can enjoy the luxury of perfect tonic in a bottle designed by aruliden.    (The bottle has a designer.)   And, forgive my ignorance, but I don't believe that quinine is just out there in pick-able plenty.  But they do say "handpicked". Presumably in Peru.
Regardless of its anti-malarial properties, this has been a most interesting entrant onto the g & t playing field.  At first sip, I commented that it seemed sweeter than normal, and Marc's first reaction was that it was noticeably more bitter;  an indication of its complexity, I believe.    It makes an astonishing impact on the overall quality of the g & t, moreso than even the gin.  Recently, I've been enjoying the pleasant bitterness of the Negroni (gin, vermouth & Campari) which has perhaps made me more sensitive to that which is sweet, so maybe that accounts for my reaction.  However, the agave that they add is more subtle than just a wallop of sugar or -yikes! – corn syrup.
It is clear what must next be done-  a side by side tasting:   Fever Tree vs. Q Tonic.   May the the best curative win.