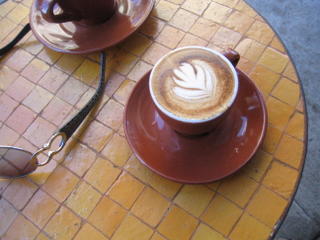 The Blue Bottle Company made the best coffee I have ever had. We were heading toward Haight and looking for a coffee when we saw a sign on the sidewalk beside an alley. We go down to find a little hole in the wall coffee shop with a metal shop in the back
I order a macchiato, and Janet gets a cappucino. When he asks me whether it was to stay or go, I had to look around because there didn't seem to be any place to sit down. There were a couple of old wooden chairs on the sidewalk and a micro bar to stand around, which I had overlooked. 20 minutes later, I'm walking down the street in a daze, repeating "Wow, that was good coffee." We went back two more times. On one occassion I saw a woman's cafe au lait with a fern leaf pattern across the top. Absolutely incredible.
Upon my return, I discovered that their coffee is listed in the top ten things to eat in San Francisco. Apparently they have a 24 hour limit between between roasting and brewing. After 24 hours they give the beans to charity.