Last year during Present Season, Marc bought me this great cookbook: Slow Cooking: Not So Fast Food. Incidentally, I think a cookbook is really the most perfect gift to give as the giver then becomes the receiver of many a great meal. I had been admiring the book at McNally Robinson a few weeks before Xmas and he was so thoughtful as to remember and surprise me with exactly what I wanted. Awww.
We've tried several of the recipes from this book but always have to plan the cooking way in advance because when they say 'slow', they ain't foolin'. The descriptions of the recipes say things like "…from the Roman era…" and "..from the peasant kitchens of ancient Gaul…". This makes it even more intriguing; imagine tasting history! Generally, these recipes take between 3 hours and 2 days to make (i.e. let stand in the fridge overnight) but they are always worth the extra effort. Marc made the best cheesecake I have ever had and the recipe came from this book. It would be nice to have a schedule that would allow for more cooking like this… How much does it cost to be independently wealthy?
So, the pie: it was Chicken Pot Pie with Mushrooms and Tarragon. It was kind of amusing to make, in a how-much-time-can-I-waste sort of way. The instructions said to use butter to brown the leeks and set aside; use butter to soften the mushrooms, set aside; use butter to caramelize the carrots and celery, set aside; brown the bacon, set aside; and so on. Then the cooking of the chicken breasts (we splurged and bought the good, free-range stuff from the butcher), then more simmering… At the end, the filling got a dollop of crême fraîche before it was reunited with the chicken pieces and covered with a home-made, tarragon pie crust. Marc even made the decorative flourish so as to match the picture in the book (yes, I can hear you– we already know we are nerds, thank-you). THEN, 2 hours in the oven. By the time it was done, we were all but drooling in anticipation because of the gorgeous smell emanating from the kitchen. Really, I could practically taste the smell, it was so good.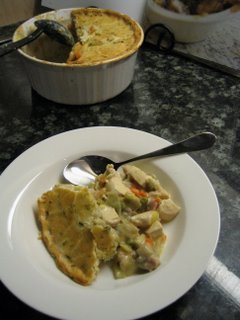 I'd like say that we savoured every morsel as we slowly sipped our wine but it was actually more like 'wolfed every morsel' and 'guzzled our wine'. At least they matched; the wine was La Vieille Ferme, I forget what year, from Côtes du Ventoux made by the Perrin family. This is one of only two wines that qualified as a finalist in our 2003-2004 search for Cheap & Good. (The other one was LoTengo, if anyone cares.) This is no small feat because I am frugal to a fault and Marc has discerning tastes. (Read: I am wicked-cheap and Marc is a wine-snob.) This wine has always been very good to us and we figured it would go well with it's long, lost, French-country cousin, Chicken Pot Pie. Once again, we were very pleased with our $9.99 bottle.
This meal rates as a solid Super-Like.