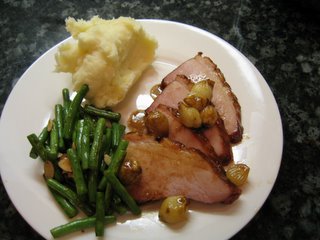 I was making fun of Pam the other day because she had agreed not only to attend an animal-themed potluck birthday lunch for an 85-year-old mother of a friend, but also, to bring a ham. When the hostess asked "What do you think you will bring to the potluck?", why, I wonder, did she respond with "A baked ham." Anyway, that's what started my ham-craving. Marc had a simultaneously triggered ham-craving but I don't know his catalyst.
We were fixin' to done buy a good ham for the Balsamic-and-Dijon-Glazed Ham with Roasted Pearl Onions but the butcher ain't haved one. We had to resort to Safeway ham and, luckily, it was way better than I had expected; it even had a reasonable outer layer of fat for scoring. Marc cooked the cute, little pearl onions and then we de-sheathed them in preparation for their 45-minute appointment with the oven. One mistake that we quickly rectified was putting the onions into the same dish as the glazed ham as they are supposed to cook independently so that the sauce can thicken nicely.
Joining the ham, we had smashed potatoes and some blanched, fresh green beans, a serendipitous find at the market. Just thinking about it now makes my mouth water. After the first few bites of ham, we had to fetch a separate little dish with extra glaze and onions to the table for dipping purposes. Combined with a few healthy glasses of Vieille Ferme, we were setting ourselves up for some major dehydration but that didn't quell the enthusiastically consumed second and third helpings. Sometimes, we can really be pigs.