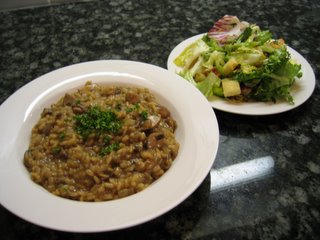 The other day, Marc noticed that since we started this blog in August, we have not made the same thing twice. How extraordinary. This is about to change.
Mushroom risotto!
I never would have anticipated such a delicious, earthy, complex meal from this simple recipe. I admit that America's Test Kitchen made it seem very tasty but paired with a good red and a bright, little salad, it was definitive bistro fare. I will absolutely make this again- as a main course for company even! The recipe included both crimini and dried porcini mushrooms and just those two things (plus the secret ingredient of soy sauce) made for some deep and fantastic flavours. I am decidedly impressed. Marc contends that risotto is not very good when re-warmed and I disagree. A verdict is forthcoming.
The wine we tried with this was Undurraga Riserva, a Chilean Cabernet Sauvignon. I thought it was quite enjoyable; I don't recall what Marc thought, though I'm quite certain he would've said something if he had disliked it.
Also, it's worth noting that while eating this dark, earthy, creamy meal, we were watching Megacities: Paris on the National Geographic channel. Of all the magical elements of the city of light, they chose to profile the sewer system; this included some pretty disgusting, though quite interesting and informative footage. The point is, even though we were watching gag-worthy, educational TV, the risotto was still outstanding. I can only imagine how good it would have been had it not been consumed in the presence of a "slurry of raw sewage".
Oh yes, the croutons! Success at last! I put something under the broiler and I actually didn't forget about them or anything. They came out perfectly, married the salad and lived happily ever after.