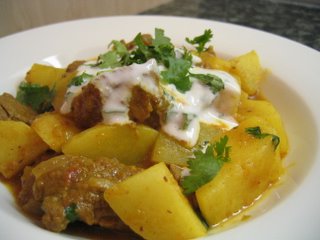 I eat this as I write. Once again, we cooked an extra large portion of dinner so as to have leftovers for lunch the next day and right now my co-workers are jealous. Ha! People on the other side of my cubicle (a.k.a. Wrap-around Demoralizer 3000) are asking the air around them "Who brought the yummy food?" And then I brag about the fancy-schmancy Curried Lamb with Potatoes and Mint Yogurt Sauce that I brought. "What did you bring for lunch? Oh, soup? In a can? Gee, yeah, that's too bad. Mine sure is delicious!"
We're kind of on an Indian food kick of late. I had a craving in December and haven't been able to shake it. We even had some tasty Indian comfort food at the Granville Island market and yet my palate remains unsatiated. Thus, we have this curry which doesn't even have curry in it! I understand that there as many versions of curry out there as there are people who cook Indian food from scratch. We got our version from America's Test Kitchen and it was quite a decent mélange of cinnamon, cloves, turmeric, cardamom, cumin, coriander, garlic, ginger, etc. but much less spicy than I prefer. Even with the halved jalapeno simmered with the lamb, it still fell short of my expectation of heat. But really, I don't care so much because it tastes marvelous with its mingling of a thousand flavours. Plus, I love lamb; though Marc had a devil of a time removing all the silverskin.
Surprisingly, this meal would seem incomplete without the sauce. I never would've thought that a cool, little dollop of flavoured yogurt could make such a significant difference. Last night, I had initially ladled a very small spoonful onto my serving but had to revisit the yogurt because it was so good. I suppose I shouldn't be surprised, because sauce in all other forms plays such an important part in aggrandizing foods (i.e. hollandaise, bordelaise, wasabi) but, I mean, it's just yogurt. Who knew?