For Christmas, Makela was gifted with the latest version of Cranium™. Unfortunately, she was the only one in her family with any desire to actually play the game. Lucky for her, she has nerds for friends (i.e. us) who offered to host a little wine-tasting-and-hors-d'oeuvres affair with Cranium™ on the side.
I had the day off that Friday so happily spent my day cooking away in the kitchen. The night before, I designed a menu of small foods upon which we could graze as we played. I was inspired by an episode of Behind the Bash on Food Network which profiled a ridiculously expensive wedding (the dress alone cost $13,000 USD) where adorable mini-foods were served. I am enamoured of the mini-foods! There were tiny grilled cheese sandwiches for which mini loaves of bread were baked, sliced and then layered with gruyère and individually fried; there were mini-cheeseburgers(!) with specially prepared mini-poppy seed rolls that were baked and dressed with little lettuce, a slice of a cherry tomato, a wee, grilled beef burger and an appropriately draped slice of cheese; and baby pies, complete with latticed-pastry top, which looked like cartoon pies that one could eat in two bites. To say that the labour involved in making this $700USD per person meal was exhausting is an understatement. But I was inspired to make a meal of finger foods!
So, whilst [quite competitively*] playing a couple of rounds of the board game, we grazed our way through
Chickpea, Garlic and Parsley Dip with toasted pita chips,
Crostini with Spiced Crab and Shrimp Salad,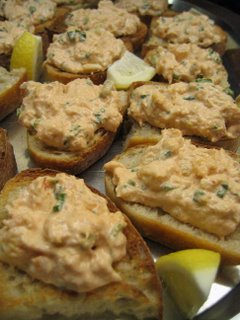 Skewered Marinated Flank Steak,

Blue Cheese, Walnut and Cranberry Crostinis,
Spicy Shrimp Wrapped in Snow Peas,
Sliced Chicken Salad with Chili-Ginger Vinaigrette,
Caramelized Onion Tartlets with Crème Fraîche,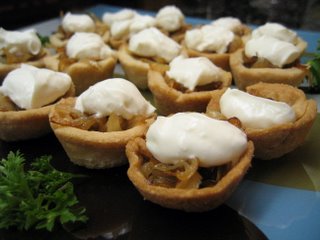 and Cardamom Applesauce with whipped cream. All of these things turned out just as I had envisioned; I will definitely be making them again. Plus, I think my efforts to produce five low-cal dishes out of eight was quite gallant, rather. (At least for my own sake- I knew I was bound to eat way too much so at least I could take a stab at tempering the damage.)
I have since recreated the blue cheese crostinis and the chickpea dip, both of which received excellent reviews at their respective appearances. Their simple recipes make me seem more clever than I am as they are simple enough to recite from memory; they shall maintain permanent residence in my grey-matter database.
We drank some form of white wine (sadly, this detail is lost), La Vieille Ferme, LoTengo, and, so as to improve our board-game-playing-skills, a glass of Maple Whiskey from La Belle Province. Makela and I "improved our skills" a little too much and disastrously lost at Taboo, a phenomenon heretofore UNIMAGINABLE. I demand a [sober] rematch. At which I will serve mini-grilled cheese sandwiches.
* before we started, Andrea had to clarify several rules of play because "some people I play with change the rules as they go". This would seem strange but I think these are the same people who play Ultimate Frisbee; collectively, they represent a new level of competitiveness.