Our Valentine's Day was Feb 13. My friend, Dave, was rolling through town on the next day to spend the night on our couch. He was driving from Vancouver to Halifax again.
Our Valentine's meal was fantastic. We started with a Mushroom and Goat Cheese Strudel with Balsamic Syrup. We've made this a couple of times before. The sherry used to cook the mushrooms gives the dish a rich flavour. The goat cheese helps too, of course. The balsamic syrup was reduced too much, sticking the phyllo to the plate. I've done that before. Janet's sharp plating made up for the extra work in scraping off the syrup and phyllo.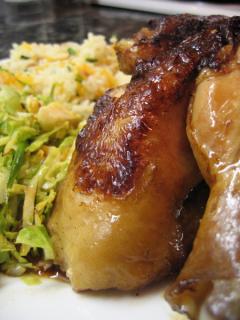 The port sauce on the hen required more work and time than any sauce we have ever made. The recipe was orginally for pan roasted quail, but we had to make some modifications after failing to find the quail and poultry bones. We started the sauce by roasting vegetables and chicken drumettes in the oven for an hour and a half. The roasted bones and browned juices gave the final sauce intense flavour, pleasantly complimenting the port and butter finish. This sauce was the best we have ever made, edging out the cranberry port sauce.
For sides, we made a Dried Apricot and Pine Nut Pilaf and Shredded Brussel Sprouts with Scallions. I keep saying I don't like brussel sprouts, but I like them every time Janet makes them. Somehow they always taste mild. The lime juice gave this a slight tang and a pleasant brightness—quite good. The pilaf was also good. I had hoped for a bit more. The dried apricots made the rice slightly sweet. I'd make it again.
I did a marginal job on the Dark Chocolate Souffles. The chocolate base required some time on a double boiler after I forgot to chop the chocolate; the hot milk failed to melt the large chunks. I also didn't know how to fold in egg whites. Janet made me try despite my protests and she didn't complain about the result. It was ok, perhaps a bit more dense than intended.
We picked up a "special" bottle of wine, which wasn't too special. It was under twenty dollars. The 2003 Burgundy, Hautes-Côtes de Beune, was satisfactory, though not in the same class as the 1999 Napanook cab Holly picked out for us at Wildwood. It was still a pleasant break from the unending drudgery that LoTengo and La Vieille Ferme have become.