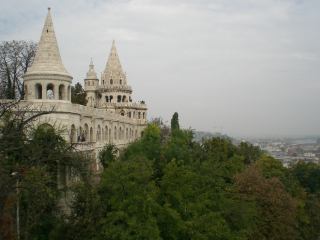 We have been making gluttons of ourselves with the Hungarian repasts. On the night of our arrival, the fellow working the reception desk at our pension recommended a place that makes good Hungarian food for a reasonable price and is within walking distance: the only three criteria we had for our supper. (Actually, we would've broken down and eaten almost anything at that point – even KFC! – as we were starving and tired and much too sober.)
The recommended place, Thokoy Etterem, was fantastic. We don't have pictures of the goulash and cabbage rolls but imagine both served under generous portions of sour cream and you can imagine how pleased we were with the meal (dodged that KFC bullet). Also, a trio of musicians played traditional Hungarian music as we ate, until the fiddler noticed that I was listening and then came over to our table to serenade us with old Beatles tunes.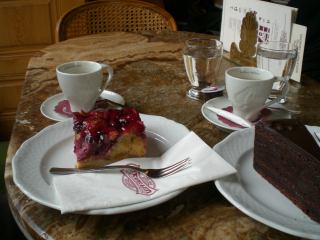 The following morning, we headed straight for a coffee house recommended by our guidebook as "a classic". Apparently, idealist types in the nineteenth century used to meet to discuss politics in the coffee houses of Budapest and, often, a revolutionary movement would be named after the coffee house in which the principle discussions were held. We went to Gerbaud's to have sachertorte, fruit torte and bitter, little coffees. (I don't know of any 'Gerbaud' movement…)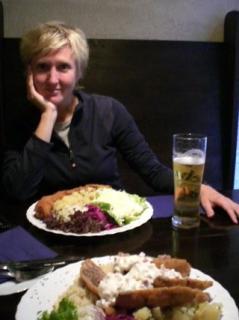 Shortly thereafter, we met with The Largest Meals We Have Ever Been Served at a pub on the Pest side of the Danube that we entered just moments before it started pouring rain. Because pub food tastes better when it is cold outside, we each ordered a heavy meal: smoked-meat-stuffed schnitzel for me; liver-stuffed schnitzel for Marc. Add a couple pounds of potatoes and a half kilo of rice to the table, plus two cups of cabbage salad and a liter of beer, and we have our lunch.
Plus a digestif of Unicum, a black, spicy, Hungarian liquor which started being produced again in the country in 1989.On top of all the food in my belly, it was potent enough to take my breath away and lovely enough to think about ordering a second.