I have to say that it is pretty sweet not to have to drive around here. I'm really enjoying walking the dog, walking to the grocery store, walking to the movie theatre and the restaurants. Lately, we have been walking down to the BART station (Bay Area Rapid Transit) to take a trip across the bay into the city for dinner. Not only do we not have to sit in surly Bay Bridge traffic or the aggravating construction traffic on the other side, we are both able to drink with dinner and do not have to rock-paper-scissors for who has to drive home.
The week before last, we met a couple of Marc's Scottish cousins (second cousins? cousins once removed?) who were in town with a performance group on tour. Luckily, they were able to meet us for dinner one night, and luckily, we were able to meet them on time, given the unexpectedly long trek through Pacific Heights to the restaurant. (Two miles of walking is alot longer than it looks on Google maps.)
We went to Cafe Kati, which is one of the places on our master list of Restaurants In Which To Eat While We Are In The Bay Area (RIWTEWWAITBA). In the reviews, it is said that this restaurant is one of the few that actually live up to the claim of creating Asian-fusion cuisine and I think I get the point. Our dragon roll appetizer was good, but the calamari was lovely and different, in a crunchy, tempura-esque kind of way; my black sesame-crusted tilapia with fennel salad was brilliant. Plus, I loved that it was an intimately small place; the coziness and the good service made the food even more savoury.
Although, there is something to be said for a big, boisterous dining room. Last week, we slid into town to meet Roger (my friend, the United auditor) for dinner at LuLu Restaurant. Turns out I had my days mixed up which is too bad for R. because he missed a good meal. I chose this place because it is the mother of the off-shoot-store-front sandwich shop at the Ferry Building Market, at which we had some delectable sandwiches a few weeks earlier. However, I have to say that though the meal was good and the atmosphere was amiable-loud, the food was relatively tame. They serve things "family style" so we shared fennel-scented, wood-oven-roasted pork loin (though I couldn't taste the fennel) and quail roasted with peaches and red rice. The quail was more interesting than the pork but neither was really remarkable; the best part of the meal was the Oregon Pinot that we chose: Calera Mount Harlan Cuvée 2004. Aromas of quince and violets.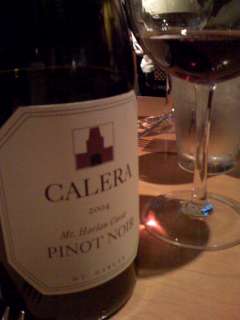 When I finally did get my days sorted out and was able to meet Roger, I picked out First Crush. In my humble opinion as a nobody, I think this place thinks it is classier than it really is. Nonetheless, the peppercorn-crusted duck that I had was confident and superb- confident in that it was cooked to perfect doneness and superb because it was. I tasted Roger's braised lamb and that is something I will return to have my own plate of. The bad news is that Marc didn't come, but the good news is that now he and I will have to go back, not only for the lamb, but for the wine tasting flights they have on the menu.
This week, we didn't have to walk or drive in order to get our hands on the Best and Most Ultimate Burger.
Any burger can be good, but one topped with melty perrano cheese, heirloom tomato, caramelized onions and applewood smoked bacon is breathtaking. That's right, breathtaking. This drippy, juicy, sloppy, melty, gorgeous burger will remain at the top of the chart until challenged by a worthy opponent. I don't see one on the horizon.