Much like every other woman in North America, I have recently read "Eat, Pray, Love" by Elizabeth Gilbert.   I read it reluctantly, mind you, because of any religious parts, but my the members of my ex-book club insisted that there was little focus on "pray" and much focus was devoted to "eat".   And they were right, I enjoyed the book very much, especially the food descriptions of the time she spent in Italy, eating plates and plates of pasta and two whole pizzas at one sitting.   At any rate, this was the first book I had read that took part (in part) in Bali.   Indonesia was really not high on my list of place to visit until I found myself in a neighbouring country with a few days to spare and a positive and interesting point of reference from Eat, Pray, Love.   From her descriptions, the island was cast in a fairly idyllic light: warm temperatures, easy going lifestyle, friendly people…  oh yes, and one or two spectacular beaches.    So, from KL, we made quick arrangements to zip to Seminyak and spend some time in the sun.
And it was sunny.   And it was hot.
Our $8/night room didn't come with air-conditioning, so for the 5 days we were there, the only air-conditioning we encountered was in the mall (entered out of desperation for some relief from the heat) and the wee little cube of glass that surrounded the only ATM in the vicinity of our guesthouse.  We took our time whenever an extraction of money was required.   Across the street from the glass cube of cool air is a bar called Mixwell which, it turns out, is a gay bar, but that didn't stop us from making it our first stop each night for the drinks and people watching.   It was hot as the surface of the sun, so what people wore – or rather didn't wear – was an amusing topic for derisive comment over tall cocktails in the early evening.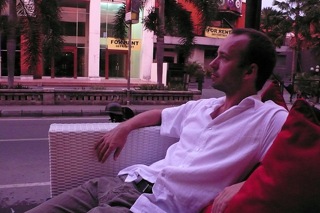 We spent our days learning to surf.   What better place to learn?  Sure, there were rip tide warnings up and down the whole beach, and the current was so strong that my quads were sore just from having waded through the surf to swimable depth-  everybody was doing it.   The guy who rented us our beach chairs offered to teach us in between his naps on the big pile of chaise lounge cushions piled in the shade behind the beach café.  We agreed, mainly because the "lesson" included board rental, and set off into the surf.   Turns out, surfing requires quite a bit of strength and effort.  More strength than I had, apparently, because after several successful "surfs" into shore, my arms were shaky from pushing myself up off my stomach and my knees were bruised and a little raw from weakly dragging along the surface of the board to standing position.   That first day, we lasted about an hour in the water before becoming completely exhausted, and the days that followed didn't see us get much stronger.    It was alot of fun though, and it beat learning in the frigid waters of Tofino or San Francico.