The rain, it seems, brings out the mixologists in us.  For the past couple of weeks, each time it rains yields a new idea for a cocktail;  throw in a round of Scrabble™ and it's hardly a bad way to spend an afternoon inside.    It turns out that learning about the Simple Syrup was the key:  equal parts water and sugar boiled and then simmered for 3 minutes.    Then it's just a question of vodka, gin, rum or scotch + flavouring agent.   Marc started keeping an iPhone list of potential concoctions and soon we had enough to warrant a cocktail tasting party.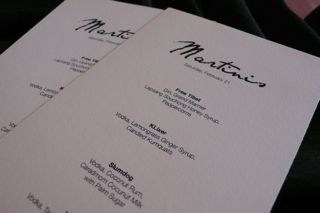 We thought up some names and Marc fashioned a tasting menu of the cocktails, which meant that we needed to buy a few more shot glasses for tasting purposes.   And, as we had the menus and all the glasses,  it seemed logical to set up a "bar" in the living room.  But then there was not enough room in the living room, so why not move the sofa and loveseat into the dining room, and put the dining room table into the living room…      We remodeled the apartment to accomodate the cocktails.
79 – Vodka, Lemon Basil Honey Syrup, basil leaf

Canadian Shield –  Vodka, Maple Syrup, shaken with a sprig of rosemary

Blood & Fury – Vodka, Sherry, Japapeño & Red Pepper Gelée, Campari, peppercorns

KL-ixer – Vodka, Lemongrass Ginger Syrup, candied kumquats speared on shards of lemongrass

Vélo Vert – Vodka, Tarragon Syrup, Lemon Juice, tarragon sprigs

Free Tibet – Gin, Cointreau, Lapsong Suchong Honey Syrup

Slumdog – Vodka, Coconut Rum, Cardamom Coconut Milk with Palm Sugar
I could drink those Canadian Shields until the cows come home- tastes like the air in a cool forest of pine trees.