Both Humphry Slocombe Ice Cream and Dynamo Donut have been recommended to us several times.  The highest praise for both comes from Brad, our boot camp leader, who often tells us about his latest enjoyment of either, or  both, as we press our free weights up the sky or jog up the steep incline to the steep set of stairs.  Incongruous, perhaps, but inspiring in an odd way;  because we do the exercises, we have earned the right to eat donuts.  Or so it goes in my head.
So when Rebecca and Matt from Montreal were visiting the city for the 2009 Nike Women's Marathon and they expressed an interest in eating some of the legendary SF cuisine, we proposed a mission to the Mission for fattening foods.   First stop, Dynamo.   The plan was to procure some for take-away and eat them later, when we could sit somewhere with a view.  The hand-made varieties on sale that Saturday were Huckleberry, Lemon Vanilla, Chocolate Spice, and Maple Bacon.  Yes, a maple-glazed donut with real bacon bits sprinkled on top.  This is Brad's favourite.
With barely a pause, we walked straight down the street to Humphry Slocombe.  To say that the ice cream flavours here are out of the ordinary would be putting it mildly.   Rebecca ordered a cup of "Secret Breakfast", which is cornflakes and bourbon, Marc got "Peanut Butter Curry", and I bravely ordered "Boccalone Prosciutto", labeled with the bracketed sub-title "Tasty Salted Pig Parts".   In ice cream.   Pig.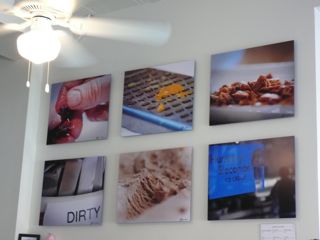 Everyone sampled everyone else's, and no-one but me liked the pig parts ice cream.   Truly, it was unique:  my mouth tasted salty prosciutto but my brain knew it was eating ice cream. It was hard to reconcile, but after consuming half a scoop, I was really enjoying the salty, sometimes crunchy, sweetness.   Marc's was delectable, thankfully non-spicy curry was used.  The "Secret Breakfast" was highly unusual. Matt observed that it was impressive that there could be so much taste of bourbon in the ice cream without ruining the cream or making it runny.  And therein lies the secret of why Humphry Slocombe is more than just creative, it's really, really good.
Later, having found an appropriate viewing point at which to consume our donuts, we snagged a bench in the sun near the Golden Gate Bridge and tucked into the donuts.
So fresh, I've never had donuts with this texture, practically melting in the mouth.  If Tim Horton's donuts are good enough to be a national icon, then Dynamo's deserve their own anthem.  The lemon and the vanilla really come through;  the bacon on top of maple, mouthwatering. Thank goodness this place isn't within walking distance, because we'd have a problem that goes beyond what three days a week of boot camp could solve.   As Rebecca put it, "If we lived nearby [each other and Dynamo] we'd all be happier, but we'd all be a little heavier".