Sunday, December 21st, 2008
Before we left for Malaysia, I declared that the first thing I wanted to do when we arrived was have an Asian breakfast of hot and spicy soup.  Then I wanted to visit the iconic Petronas Towers of KL.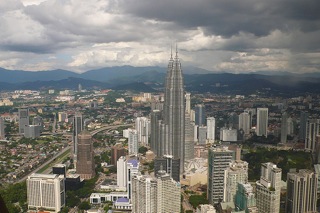 In reality, we arrived in the afternoon so the spicy soup craving translated into cold Asian beer, and the trip to the towers was less about the view from the 41st floor Skybridge between the towers, and all about our first taste of Malaysian food.   Geoff and Lucinda wisely determined that our introduction to the local cuisine should start with a visit to Little Penang Kafé in the KLCC shopping mall housed at the base of the towers.  Actually, to describe KLCC as a mall is not giving it enough credit;  it is more like The Mall.  Not only is it the base of the city's most recognizable landmark, it is several floors of tiled, marbled, designer-labeled, brightly-lit haven of cleanliness and air conditioning.   Besides the air-conditioning, Little Penang was the best part.
Still in a bit of a jet-laggy haze, we wove our way through and around traffic (no sidewalks in KL) and found ourselves at a table at the back of the kafe, mouths watering at the welcome suggestions of what we should first eat.   Geoff recommended nasi lemak, which we were to learn is the national dish and can be found everywhere, whether you like it or not:   coconut and pandan flavoured rice for breakfast, lunch and dinner.  Lucinda insisted on whatever it was that turned out to be chicken in sort of long, deep-fried egg rolls.  I'm sure one of us had beef rendang, and wasn't there a penang rojak to be had?    Geoff shared his char kway teow, flat rice noodles fried over very hot PORK FAT with light and dark soy sauce, chilis, shrimp, sprouts, chives, and fish cake.  Wash this down with more beer and, for Lucinda, a tall glass of freshly-made green apple juice.   Oh Malaysia, no wonder you're the [self-described] fattest Asian nation-   a country of people who love to eat and who generously lace everything with coconut milk, palm sugar or pork fat;  I will happily aim to fit in!