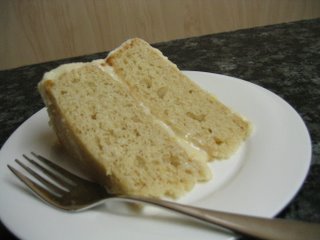 Somehow, it came up in converstation recently that Marc had not had a cake for his birthday in April. How could this be? He claimed not to have been disappointed but the frowny face would indicate otherwise. Fine, I was in the mood to make a cake, anyway. He requested something with layers and chose lemon-y over chocolate or any other flavours. And because I love ginger, this Lemon Ginger Cake with Lemon-Cream Cheese Frosting seemed like a good choice.
According to the intro on this recipe, it's supposed to "turn dessert into a celebration". Pretty big words coming from a little cake! Plus, it had buttermilk in it which, the recipe claimed, makes it a very moist cake that actually tastes better the day after it's made. (Oh yeah?! We'll see about that!) Actually, this bodes well seeing as how we are only human and much as we'd like to, we are physically incapable of eating a whole cake in one sitting, especially after having just finished supper. Plus, Marc is still "adjusting to the time change" from setting the clocks back one hour and after a big meal, he tends to fall asleep on the couch at about 8 o'clock. I had to work fast to beat that time deadline!
In between making dinner and watching CSI, I made the cake and frosting and then made a critical error in judgement: while letting the cake cool, I allowed the frosting to stand at room temperature. Rookie error! At 7:50pm, when I was ready to quickly frost the cake in all its layered glory and serve it forth to the increasingly sleepy ogre (ha ha!), the frosting was very sloopy (technical term). I had no time – no time! – to fool around with cooling the frosting so I risked assembling the cake with the sloopy icing and then attempting a flash-cool in the freezer. Rapidly emptied freezer, slapped on the icing, and threw the cake in for about 3 minutes, like that was going to help.
In the end, it was a bit lop-sided because the frosting squished out the sides causing the top layer to kind of slid to one edge, and I had to wake up Marc in order to eat it, but it sure tasted good. And the recipe intro didn't lie, it really was better the next day. In fact, it was good on each of the next 5 days!