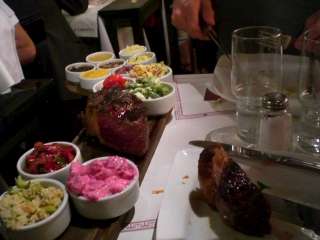 Two random couples we met raved about La Cabrera, a barbeque restaurant in Buenos Aries, one fellow saying he would return to BA just to go there. We showed up at 9pm, an early arrival by Argentinian standards, just to ensure we could get a seat without waiting, which we barely managed.
The steaks are so big that it was recommended that we only order one to share, which we gratefully followed. Janet couldn't even finish her half. We also ordered a salad which turned out to be nearly the size of a KFC bucket. Luckly we skipped the side of mashed potatoes with carmelized onions, which surely would have been bucket-sized as well. The steaks here were extremely good, but it is really the side dishes which made it an exceptional experience.
Most steaks in Argentina come without sides, which are ordered separately. At La Cabrera meat is served similarly to Korean food, with a dozen little ramekins filled with savory treats—antipasto, mashed potatoes, roasted garlic with a sweet sauce, carmelized pearl onions in demi glaze, sauteed mushrooms with gravy, picked beets, mashed squash, couscous and a couple of others that we didn´t even taste.
We'll be trying to reproduce the experiece at home.