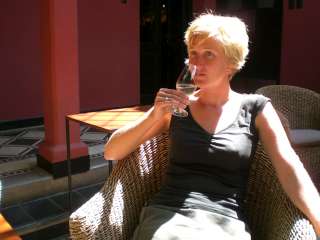 In my present state of mind*, I find it hard to imagine a better place in the world than Mendoza. They get 300 days of sun a year, the city is filled with huge, gorgeous trees, parillas (Argentine BBQ restaurants which universally serve gargantuan steaks) hover around almost every corner, and they are surrounded by wineries. Oh, and they're within spitting distance of the Andes, not that I would ever spit wine.
*We just returned to our hostel after having spent all day touring wineries; the last stop was for a 2-hour, 3-course lunch at a bodega's French restaurant.
We knew we would like it here before we had even arrived because many people we had met had raved about the place. Of course, all they had to say was that the city is known as the Wine Capital of Argentina for us to visit. (Frankly, we would've flown to Argentina just for that.) So now we can confirm that, indeed, we do love it here. There are over 800 wineries in the near vicinity and the area is known as the Napa Valley of South America. Why is it that we had not visited sooner?
Anyway, I could go on and on about the wine but will limit myself here to talking about one particular wine tasting facility: Vines of Mendoza. I don't really know how to label this place; it's sort of a wine club, tasting room, wine-tour arranger, enthusiasts' meeting place, wine promoter type place. (They make money by exporting local wines to Europe and America.) But for us, it's just a great, relaxed place to go to taste, and learn about wine.
Within two hours of our arrival in the city, we headed straight for the Vines based on a very high recommendation from fellow world travellers from Calgary. The atmosphere was not at all pretentious – as one kind of expects when speaking of a wine-reated facility – and we were completely comfortable as soon as we walked in. We got a brief tour and then were introduced to some of the services and tastings they had on offer. It didn't take us long to decide that we would try the flight of Reserve wines immediately, followed by a Sensory Tasting the next day, and a reservation at the Wine & Cheese night the following day. We were like tipsy flies falling happily into their viney web.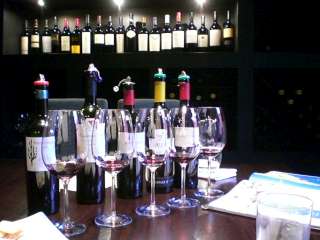 The hour and a half that followed was magnificent. We tasted five of Argentina's Best wines, complete with an educated and friendly host who walked us through the regions, the varietals, the aging, the aromas and the tasting. (I'm edumacated in the wine, now.) After being so long in Asia without a drop of decent wine to be found, this was an absolutely exquisite way to spend the afternoon.
Really, I can't say enough how much fun we had and how lovely the wine was, and this was only our first day! The bliss continues unabated.
P.S. If anyone cares to know which are the best reserve wines of Argentina… Angelica Zapata Malbec Alta 2003, O'Fournier Alfa Crux 2002, Bressia Profundo 2003, Carmelo Patti Gran Assemblage 2002, Yacochuya Malbec 2001.