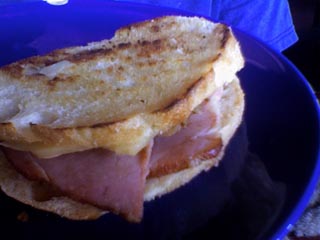 Baking fresh ciabatta started the morning well and set me up to make a wicked sandwich for lunch. Taking a cue from the balsamic and dijon glazed ham, I finished the carmelized onions with balsamic vinegar and dijon before taking them off the heat. I picked up the grocery store's featured parrano cheese, which they described as a Dutch cheese in an Italian style. Tasted like cross between gouda and swiss to me. Stacked up with leftover baked ham and pan grilled, it was a melty, salty sensation.
Jan's away for the weekend with the camera, so I thought to use the iSight camera in my MacBook to document the meal. You can see where this is going. I, more concerned about the angle of the camera than the angle of the plate, watched the screen in horror as the sandwich slid off the plate, out of the camera shot, and onto my keyboard. Like looking in a true mirror, I wasn't quite able to coordinate and tip the plate to avoid disaster. Did I mention I fried it in butter?
In anycase, the keyboard seems to be fine except Sammy keeps staring at it and slobbering.