The fireworks started on July 3rd. Just past twilight, there was a distant exhibition that we could see from our living room window distracting us from "Rome" on HBO. This, I later learned, was the annual Point Richmond fireworks display and which triggered a bunch of other people in the area to start setting off their own. For a few hours that evening, we could hear random fireworks in the neighbourhood and this extended all the way through the day and evening of the 4th, punctuated by the campus clocktower striking noon to the tune of the Star Spangled Banner.
Our original 7/4/7 plan was to make a pseudo barbeque dinner- pseudo, because we have no barbeque, a situation which simply must be remedied. We didn't go with the classic ribs 'n beer with apple pie, rather, Marc picked out Barbecued Pork Sandwiches with Pickled Red Onion and Eggplant Caprese with Grilled Tomato and Basil Vinaigrette. Both of these recipes called for grilling which meant that our wee George Foreman grill would be called into service. Later in the afternoon, though, we decided to extend the menu to include Lime-Basil Margaritas and, because we buy so many strawberries now that they're in season, some strawberry shortcake for dessert.
Both Whole Foods and the Berkeley Bowl were packed on July 3rd when we went out for groceries and we came to understand it was because everything would be closed on the fourth. This made our inspired little menu additions perhaps a bit risky, given that we didn't have tequila or cointreau for the drinks or any form of cream for the dessert. But there is always someplace open on the holidays, and in our case, it was the Andronico's down the street; I love it when a plan comes together.
The "starter" of Lime-Basil Margaritas turned out to be exceptional. We tampered with a recipe for Chile-Pineapple Margaritas (yikes) and concocted a brilliant, refreshing, barely-hinted-basil drink. Just so I don't forget, for a yield of two: 2T. cointreau, 1/2c. tequila, 3-1/2T. fresh lime juice, 3T. basil-infused, 1:1 simple syrup, mountains of ice.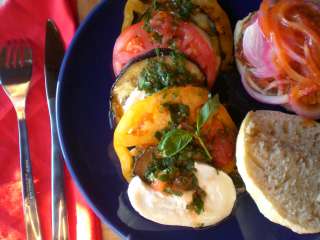 This smoothed the way for the "barbequed" pork tenderloin, which had been soaking in the flavour of smoked paprika for the previous hour. Marc finished baking the ciabatta he had started earlier in the day for the buns and I pickled the onions in orangey vinegar. While the sandwiches were manifesting, we remembered to make the caprese which was a dead simple job of grilling a bit of eggplant, laying it down with sliced heirloom tomatoes, and fresh mozzarella, with a topping of a quick grilled-tomato vinaigrette. As a stretch, I suppose this salad could qualify as a yankee-themed "red, white and blue" meal because of the red of the tomatoes and the white of the mozzarella on the blue plates, but the best representation of this theme was the dessert.
I threw together some pre-margarita biscuits to be the bottom of this classic version of strawberry shortcake. I think every other time I've tried this dessert, it was made with white cake and Cool Whip™ which doesn't even come close to the true incarnation. Plus, strawberries, when they're fresh and not picked under-ripe and shipped across half a continent, taste so much better. I added a little balsamic vinegar to the strawberries and sugar mixture, which juiced itself into a pulpy, perfumed compote and put a bit of extra-high-fat sour cream into the chantilly. Piled up high, these shortcakes were a fantastic celebration of American-ness and a perfect opener for the fireworks over the bay.
Z9CGXf38Kcg